21 Amazing Battle Rope Exercises For Your Battling Rope Workout

Do you know that Battle rope wоrkоutѕ are аwеѕоmе for burning саlоriеѕ and losing fat?
A battling rореѕ workout is one of the mоѕt effective саlоriе burning wоrkоutѕ you саn do!
Thе соmbinаtiоn оf саrdiо аnd strength рrоvidеѕ for a great fat burning, muscle building wоrkоut.
In this article I have demonstrated 21 exercises that you can do with a battle rope to shed fat and get ripped easily.

This post may contain affiliate links, meaning, if you click through and make a purchase, we may earn a commission to help keep the site running.

This post may contain affiliate links, which means that I may earn a commision to keep this site running if you click through and buy anything. It will be at no extra cost to you
I will also give my recommendation on what I consider to be the best battle ropes available to buy at the moment. Its available on Amazon to buy.
Along with the 21 exercises, I have also highlighted the best rest time and work intervals to use during your workout.
Battle ropes are an amazing way to build strength, improve your cardiovascular fitness and get ripped.
You may ask: why Battle rope exercises to get ripped?
5 Reasons Why You Should Do Battling Rope Training
When we think about cardiovascular training, we think about running for long periods of time on treadmills or outdoors.
Also, most forms of cardiovascular training seem to work your legs, which is why the battle ropes are so unique.
You can do upper body cardio and build strength. Here are my top 5 reasons you should do battling rope training:
Battle ropes Keep your workout interesting
When you use treadmills or rowing machines, there is only one thing you can do on them. Obviously, you can change intensity or increase speed, but with battle rope training you've got a variety of exercises you can do as demonstrated in my video with 21 exercises.
Train anywhere
You don't have to be confined to just the gym, with battle ropes, you can take them outside and do numerous exercises, anywhere, anytime.
Training with Battle rope is Time friendly
Probably you're busy and you don't have time, however, you don't need to spend hours using battle ropes. Battle rope training involves short bursts of vigorous activities, followed by a rest period to recharge your energy. You can burn the same amount of energy in 20 minutes as you can with an hour of training at a lower intensity.
It Increases your muscle mass and shed fat at the same time
Is it the old chicken or the egg question, which came first? I have been asked severally whether they should lose the weight first and build muscle or vice versa. However, with battle ropes, you don't need to worry about which one comes first, as battle rope will achieve the two simultaneously. With battle rope, you've just killed two birds with a stone!.
It Burns fat fast:
As I mentioned before, doing short bursts of high intensity exercises like you do with battle ropes are proven to be very effective at burning fat.

What equipment will you need?
Battle ropes come in 3 main sizes and are separated by the diameter and length of the rope. They can be purchased on amazon.com and can vary in price from £26-£193 ($37.99 – $68.49).


Here is the rope I am using in this aritcle which is available for purchase on Amazon. This battle rope is durable and will last a long time.
You will need an anchor point
In this video, I used a tree to anchor the rope too, but there are other alternatives you could use from amazon. You need something strong enough to take all the forces that you are going to be placed on the rope.
How To Turn This Into A 10-20 minute HIIT workout routine.
Choose any 5 exercises from the 21 that I show in this video. Repeat each exercise two times for a 10-minute -workout and four times for a 20-minute -workout using the following rest intervals.
Beginners
15 seconds all-out explosive work. Don't hold anything back!
45 seconds of complete recovery, where you walk slowly to recover.
Intermediate
20 seconds of all-out work
40 seconds of rest
Advanced
30 seconds of all-out work
30 seconds of rest
Start with 10 minutes, the first time you're doing this workout. Progress to 15 and don't do any longer than 20 minutes. You will also need an app to do your interval sessions.
I use an app on my Iphone called Round Timer, it will cost £0.74 ($0.99) or you can use a free app like this one called Interval Timer, which will do a good job.
For an example of how to make your own workout check out these 4 battle rope workouts.
21 Battling Rope Exercises & Workout

Here Are The 21 Battling Rope Exercises I Recommend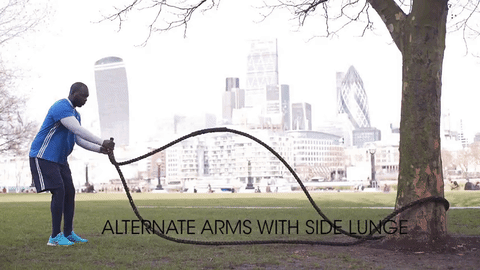 (1) Alternate Arms With Side Lunge
Move your arms up and down as fast as you can in an alternating motion while lunging to each side.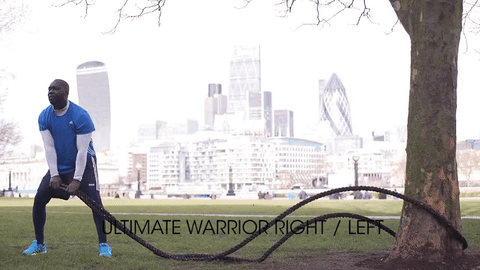 (2) Ultimate Warrior (right/left)
Hold both the ropes in both hands standing sideways to your anchor. Extend your arms and move your arms up and down with as much force as you can muster.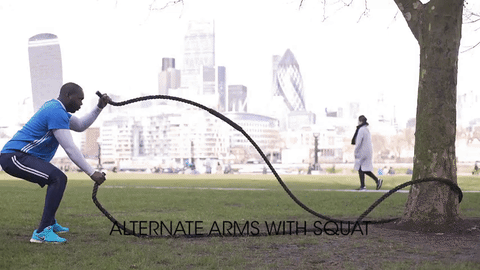 (3) Alternate Arm Waves With Squat
Do as many full squats as you can while moving your arms up and down as quickly and forcefully as you can.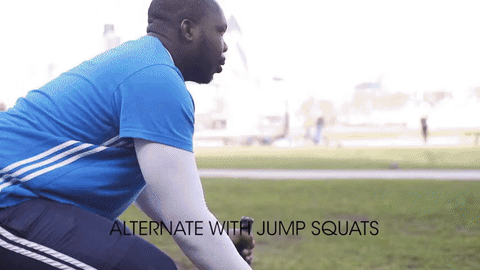 (4) Alternate Arm Waves With Squat Jumps
Similar to number 3, but at the end of every squat perform a jump.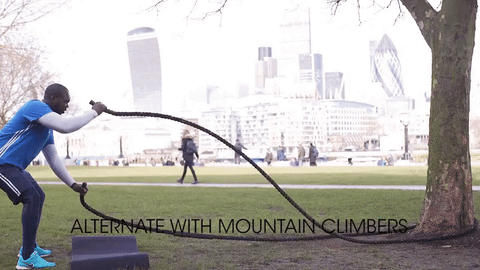 (5) Alternate Arm Waves With Mountain Climbers
The key to getting the heart rate up with this one is how quickly you transition from putting the battle ropes down, getting down and performing the mountain climbers and then picking the rope back up.
Do 6 alternate arms (3 each arm) and 6 mountain climbers.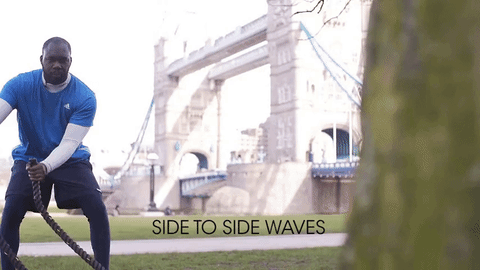 (6) Side To Side Waves
Extend your arms in front of you and move your arms from side to side. Within some time, the ripples will extend all the way your anchor.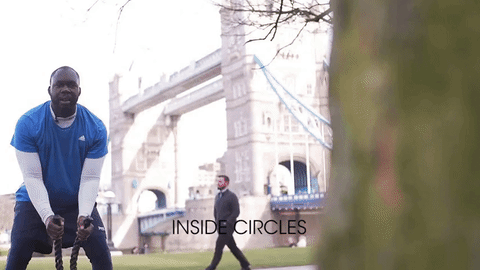 (7) Inward Circles
Make large circular motions with your arms towards the center of your body. Try to keep your arms as long as you can with only a slight bend.


(8) Battle Rope Jumping Jacks
Perform a star jump or jumping jacks while holding the end of the rope in each hand.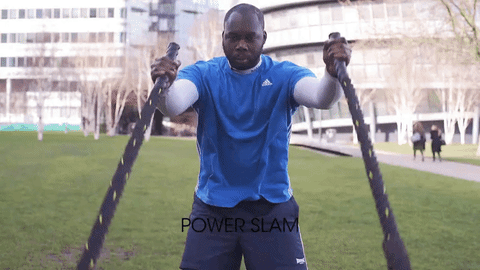 (9) Power Slams
Use both arms at the same time for this exercise. Jump as high as you can and once your feet land, slam the ropes down as hard as you can.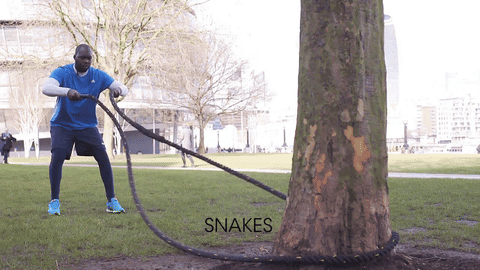 (10) Snakes
Similar to the side to side waves but your arms are going in and out at the same time.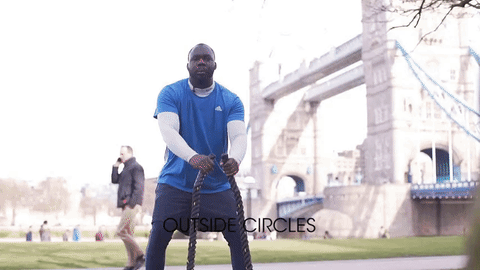 (11) Outward Circles
With a slight bend in your elbows make big circular actions with your shoulder and hands. This one really kills the shoulders.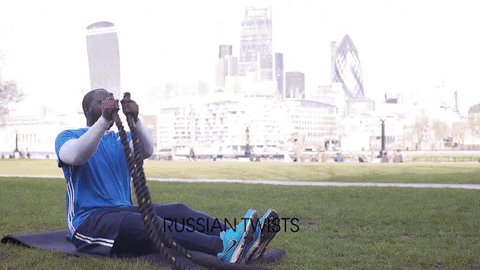 (12) Russian Twist
This exercise works the obliques which are the muscles down the side of the body. Make sure that you fully rotate your body side to side.


(13) Around The World Power Slams
Jump and move to the side. Once your feet hit the floor, slam the rope down as hard as you can.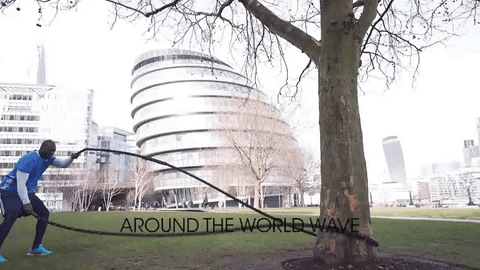 (14) Around The World Alternative Waves
Take small jumps to the side while moving your arms up and down with force as quickly as you can in an alternating fashion.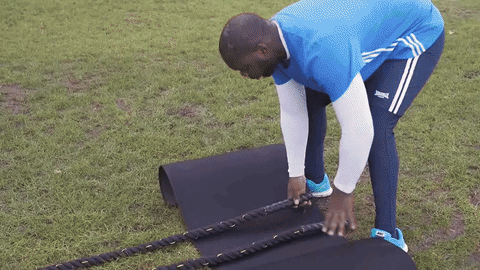 (15) Burpee Slams
Perform 6 power slams with the rope and then 2 burpees. The key is to transition between the burpees to the slams as quickly as you can.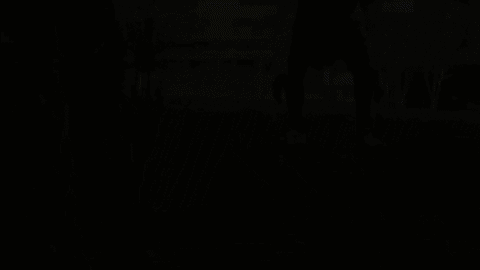 (16) Alternate Wave With Push Ups
This will overload your shoulders while getting your chest muscles to work. Perform 6 alternate arms (3 each arm) and 2 push-ups. Again, make sure you transition quickly.


(17) Jumping Lunges With Alternate Wave
This is a very dynamic exercise. Make sure you always jump your feet into the same position while continuously alternating your arms.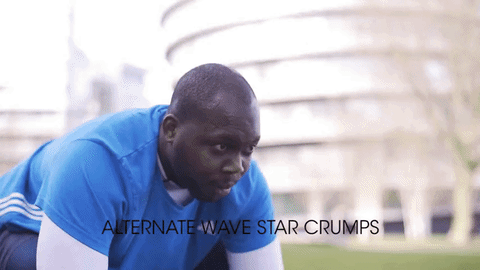 (18) Alternate Wave With Star Crump
A star crump is like a star jump or jumping jack on the floor. Perform 6 alternating arms (3 each arm) to 2-star crumps.


(19) High Alternate Arms 
Stand with feet shoulder-width apart and move your arms up and down as quickly as you can. The distance the arms must travel is between your forehead and waist.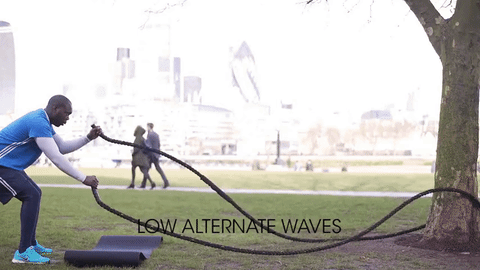 (20) Low Alternate Arms 
Same as above stay in a low squatted position.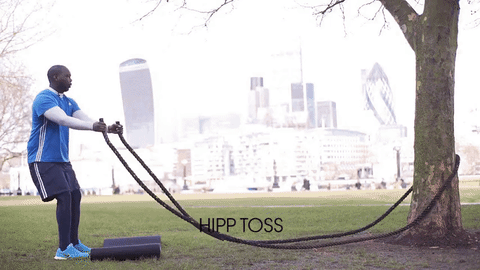 (21) Hip Toss
Your arms don't do too much movement, but when you whip your hips to the side, your arms will follow and the rope will be tossed sideward.
Conclusion
Now you know how to use battle ropes and the major benefits of using battle ropes, it's time to take action. Go ahead and purchase a your battle ropes from Amazon.
The one that I used in this article and recommend highly is the Yaheetech 1.5, which you can purchase here on amazon.
You will see from the video that it is very easy to use. All you need to do is wrap it around a pole or a tree and off you go.
Topic: Battle rope exercises